Click on any of the topics below to read more about jet skiing on Maui.

What is a Jet Ski?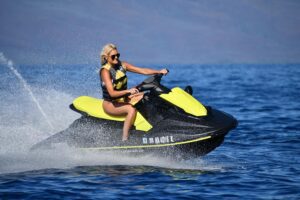 Jet Ski is the brand name of Personal WaterCraft (PWC) manufactured by Kawasaki Heavy Industries, Ltd.. The name, however, has become a genericized trademark for any type of personal watercraft. Since the riding of jet skis has evolved through the 90s, other companies like Yamaha, Bombardier and Honda have joined the sport to make it into a worldwide sport in both racing and freestyle. A Jet Ski is propelled by jets of water, not props. In Maui, you'll be riding on one of the most powerful jet skis made today – the Yamaha WaveRunner.
To ride, attach the engine shut-off clip to your life-vest before you start your jet ski. Next, place both your hands on the handlebars and slowly squeeze the throttle with your first two fingers. While you are in close proximity to the shore or dock, keep your speed at trolling, the lowest level. Once away from the dock, have fun, but be safe. Stay inside the buoys while you ride and avoid other jet skiers and boats. Be sure to stay aware of your surroundings at all times when you are riding your jet ski.
Is it safe to ride?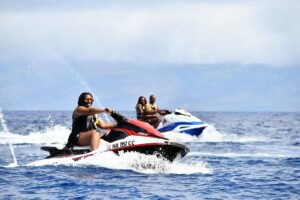 You CAN be injured by riding a jet ski. Jet skis are relatively safe, but because they are so much fun, people tend to forget their safety zone and sometimes collide with other skis or boats. Pacific Jet Sports (MAUI JET SKI) mandates keeping at least 300 feet apart from the nearest jet ski or boat , be aware of your surroundings – always look right and left as you ride – and most importantly, be safe & have fun!
YOU ARE RESPONSIBLE FOR INJURIES AND DAMAGE TO YOUR JET SKI RENTAL.
Riding 2-on-1 Jet Ski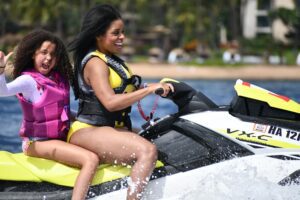 Sometimes riders want to add a friend or child on the back of their jet ski. Our skis are two rider friendly, and it's a great way to share the fun. Be sure to add additional riders to your reservation when booking to take advantage of this feature. Also, While it's great to ride two on one ski, we recommend two adults rent two skis for maximum extreme fun!
How long are the rides?
That is a really good question. All rides are 45 minutes.
What if I have never ridden a jet ski before?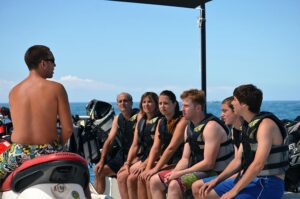 No worries! – our friendly and professional staff instruct you on all safe riding principles before you get in the ocean. If you can walk and chew gum, you can ride a jetski!
Do I need to put down a deposit?
Please bring a major credit card. We are not going to charge your card unless you damage the equipment.
Do I have to go around the barge in circles?
Anytime you are next to our Jetski Islands (Barge) you must ride in the same clockwise direction due to the high traffic going to and from the barge. There are areas designated where you can go out and do free style as long as you keep a safe distance and a safe speed from others. You MUST stay 300 ft away from other riders.
Is there a bathroom near by?
There are public bathrooms in the area.
Is there parking available?
Free beach parking is available or you can pay to park at Whalers Village Shopping Center.
Do I need a wetsuit?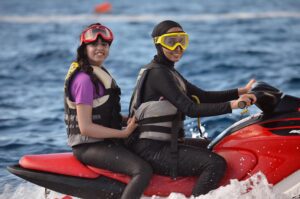 You don't need a wetsuit for reasons of the water temperature, since the ocean is roughly 80 degrees; however, there is the hidden danger of the jet. The jet ski's acceleration throws water and air from the rear of the jet ski and so, if someone is in the jetstream, they can suffer personal injury if this water pressure and air enters their cavities and thus can injure their internal organs. For prevention adults and children may wear a wetsuit while driving or riding.
If I'm not going Jet Skiing but my family is, what can I do? Is there shade? Where can I wait?
Yes there is shade, shops, restaurants, beachside bars, and for $30 you can go out to Jet Ski Island and watch if you prefer!
Can you accomodate large groups?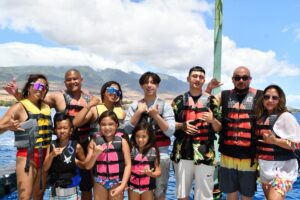 Absolutely! You are able to rent all 18 jet skis and each ski can hold two people! We have accommodated the entire UCLA, UConn and Kansas basketball teams from the Maui Invitational; enormous convention groups and wedding parties.
How fast can I go on my jet ski?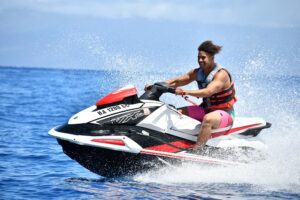 Our Yamaha WaveRunners can reach speeds of up to 50 but we suggest only going as fast as what feels safe to you. It's not the speed, it's the journey!
Do I need a special license to drive a jet ski?
No you don't. No license is required at all.
HOWEVER, in order to sign a liability waiver you must be 18 years or older. The parents/guardians needs to sign these wavers. No exceptions!
What is the minimum age to ride a jet ski?
You must be at least 16 years old (drivers license is not required) to drive our jet skis by yourself, 15 years old to drive with an adult. There is NO minimum age to be a passenger, BUT all riders must be at least 32 inches in height to be able to be seated appropriately. The parents are required to sign the liability waiver and vouch for the rider's age.
What days are you open and what are the hours of operation?
We are here to serve you 7 days a week! Special arrangements can be made to ride outside of our normal operating hours. Remember- We are here to serve you!
Where exactly is the jet ski riding area?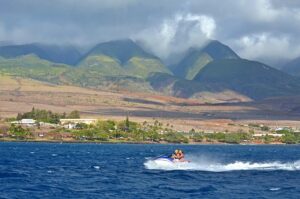 We ride in the South end of Kaanapali beach in front of the Westin. The area is located about a quarter mile offshore away from swimmers, snorkelers and divers. From the Jet Ski Island "Dock" you can go about a quarter mile to open ocean towards Lanai and Molokai.
Just curious, have you had any celebrities jet ski with your business?
Celebrities tend to locate the best of the best.. so yes.. we have assisted a variety of celebrities and when requested, we honor their right to privacy and instruct our crew not to take photos. The Prince of Morocco rented our fleet for the entire day!
How far in advance do we need to reserve a jet ski(s)?
For your convenience you can walk right up to our red and white umbrella located on Kaanapali beach fronting Whalers Village. Be spontaneous, or reserve online right now!
Can we see any wildlife where we ride?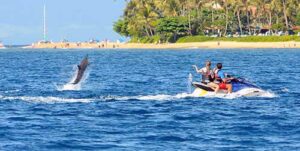 YES! We can encounter pods of Hawaiian Spinner Dolphins within our riding area.
What if I'm not the best swimmer?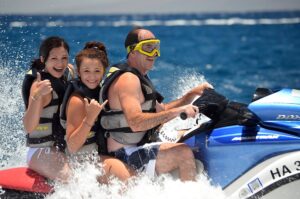 No problem. We provide all riders (passengers too) with properly fitting life jackets. Should for any reason you or your passenger fall off, the life jacket will ensure you will float until you re-board your jet ski.
Do you rent to physically challenged people?
Yes. We have had years of experience taking blind and paraplegic riders! We can help people with special needs in and out of the boat and our instructors will take them on the jet ski. There is a walkway from the parking area behind the Hyatt directly behind our Red Umbrella and we offer a place to leave wheelchairs. We have Handicapped parking. We welcome any and all people.
Where do we meet to go jet skiing?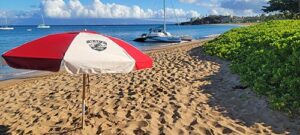 We meet at the Red and White Umbrella on the beach, just outside of Whalers Village Shopping Center in Lahaina. Please see the map provided on our Location/Contact page.
Do we need to make a reservation or can we just show up?
Not necessarily. We have the largest fleet so we can accommodate those of you who like to be flexible and spontaneous!
What do I wear to go jet skiing?
Wear a bathing suit or surf shorts. Don't worry about wearing/bringing reef booties, flip-flops of the likes, we ride barefoot. It is a good idea to bring a towel and sunscreen with you.
How many people can ride (fit) on our Yamaha WaveRunner?

Up to three people (weighing no more than 450 lbs combined). Keep in mind though the closer you get to the machines weight limit, the less stable the jet ski becomes. Overall performance goes down even at 400 lbs.
Are life jackets provided and if so, how much do they cost?
Life jackets are provided at no additional cost.
What happens if I fall off my jet sit while riding?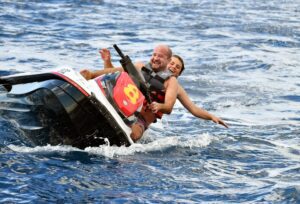 Other than getting wet, that's about it! Relax, the water temperature is roughly 80 degrees year round. Just know that you are connected to your jet ski at all times with an emergency cut off switch. If you should fall off your running jet ski for any reason, the cut off switch will immediately kill the machine and your jet ski will not leave you behind!. You would then simply re-board the jet ski from the rear of the machine and reboard as stated from our jet ski instructors briefing prior to your rental. Once aboard, insert key, restart your machine and away you go!
Are you ready to jet ski?
Single $104 + tax
Double $149 + tax
All rides 45 minutes